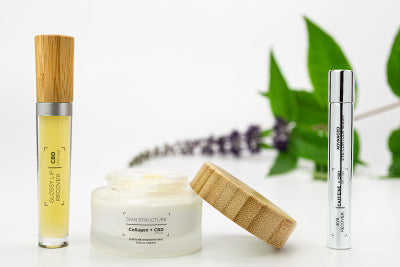 It's no secret that the cannabis extract CBD has been gaining popularity and profitability in recent years. From CBD sublingual oil and CBD vape oil to CBD infused food and drink, one industry making economic strides at the moment is health and beauty. Why? Let's find out more. 
 Why Are CBD Beauty Products So Popular?
There are a number of factors attributed to the reason why the availability of CBD beauty products and the markets ensuing profitability has risen so sharply. The so-called 'green-rush' began as states across the U.S. started to vote for the legalization of medical and recreational cannabis.
As the popularity of the plant began to expand and blossom, so too did the diversification of the cannabis business. Attracting a wealth of new customers from a broad range of demographics, the traditional way of consuming cannabis products has inevitably evolved. From infused food and drink to isolated extracts of particular cannabinoids such as CBD, a broad and innovative cannabis market is emerging. 
CBD Face Cream with Collagen
Slowly erasing the synonymity of 'getting stoned', CBD products might be considered the clear thinking level headed cousin of THC. CBD is legal and more importantly non-psychoactive - the image of cannabidiol has been shaped into one of natural wellbeing in recent years.
Since the beginning of 2018, which coincided with the expiry of the USA's Farm Bill, companies have been free to add CBD as an ingredient to products, which has led to a huge number of U.S-based beauty companies developing entire ranges. From Louis Vuitton to Estee Lauder, CBD has caught the attention of just about everybody.
As consumers become more conscious about where the products they use come from, CBD beauty products are often aligned and marketed towards those seeking alternatives found within the natural cosmetics industry. This popular and ever-expanding industry is estimated to be worth £28 billion in 2019 and will generate £42 billion globally by 2027.
Social media influencers, savvy marketing and celebrity endorsements from the red carpet all additionally contribute toward a significant rise in those trying out CBD products. In fact, there was a reported 370% increase in search trends for CBD beauty at the beginning of 2019 alone.
How much is the CBD Beauty Industry Worth?
To give an indication of just how popular the CBD beauty industry has become, check out some of the numbers below.
Global cosmetics market estimated to be worth £632 billion in 2023
Global CBD cosmetics market estimated to generate £576 million in 2019
Global Natural Cosmetics estimated to reach £42 billion by 2027
Will CBD Beauty Products get you high?
If you're wondering whether using CBD beauty products may inadvertently get you high, we can confirm with some certainty that they will not. CBD products sold in the UK are derived from industrial hemp plants which must contain less than 0.02% THC. THC is, of course, the infamous psychoactive molecule found within stronger strains of cannabis known for getting people 'high'. Industrial hemp, on the other hand, is packed with the completely legal compound CBD, which is now been used in anything from foot cream to moisturizer.
Do you use any CBD beauty products? Get in touch and let us know what you think.