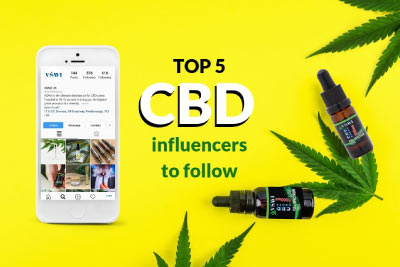 Looking for the latest on CBD news? Who's who when it comes to the know-how and who's got the star appeal necessary to attract an engaged audience willing to follow the lead? From actors and actresses to CBD specialists, Let's take a look at 5 CBD influencers to follow online.
Once upon a time, the world of media was a confined and limited one, to say the least. Enter the Internet and the golden age of accessible information and ever-increasing influence. As an influx of internet celebrities continues to expand at exponential speed, anyone from your gardener to your granny can be internet famous in an instant. Such is the influence of Internet stardom, companies and brands have been spending huge amounts of cash for said internet celebrities to spread the word to their engaged followers. So much so that, based on current trends and projections, the estimated spend on social media influencers by companies in 2022 will sit between $10 billion. Big business.
But it's not all about money-making - there are those out there online who just want to help inform people about information often misunderstood. Check out these CBD influencers who are advocates for good intentions and great advice.
1. Seth Rogen
Hollywood funnyman and prolific actor, director and producer, Seth Rogen has been a keen proponent for pretty much anything cannabis-related for as long as he's been gracing our screens. Citing the plant's properties with enhancing his creative process, Seth's passion has even seen him launch his own cannabis company. In 2014, he also stood before Congress to argue for further federal funding for care and research into CBD.
2. CBD Woman
With over 10,000 subscribers to her YouTube channel, the UK based CBD Woman, a.k.a Rachel provides friendly and informative videos on a range of topics surrounding CBD. From how to vape CBD to explaining in handy videos further about CBD simply and effectively.
3. Kristen Bell
Further celebrity endorsement comes from star of The Good Place Kristen Bell who has been a long-time user of CBD. Kristen is also known to use lotion to help her maintain a healthier lifestyle, letting her 10.6 million Instagram followers know all about it at the same time.
4. Dr Rachna Patel
The U.S based Medical Marijuana and CBD Oil Expert Dr Rachna Patel has a great YouTube channel on CBD - sit back and get ready to be informed.
5. George Kruis
The influence of sports stars is a big one, and ex-Rugby players George Kruis and Dominic Day are using their power to recommend CBD products to fellow athletes and sports enthusiasts looking to maintain a healthier lifestyle. Following retirement from the game, the pair have gone onto launch their very own CBD sports supplement company.