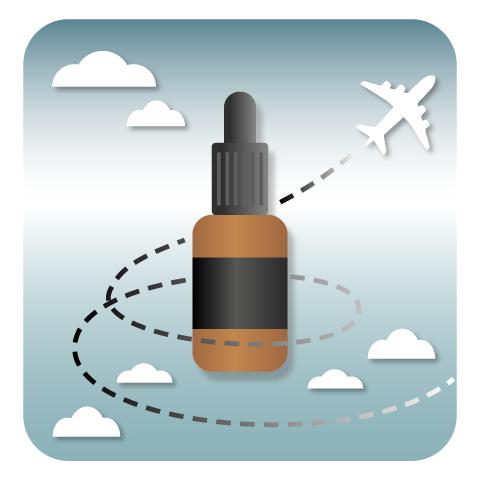 If you're hoping to fly overseas from the UK anytime soon, then you'll need to know every tiny detail before hopping on a plane with CBD oil or CBD e-liquids for vaping. 
While here in the UK it's fine to purchase and take the popular food supplement to support your busy schedule and lifestyle, imagine the panic if your CBD was confiscated at customs or even worse a fine. In some crazy situations countries even threaten prison time if caught with CBD.
Therefore knowing whether you can take CBD oil on a plane, vape it at the airport or even take CBD at all is vital. This guide will give all the information you require for a stress-free trip that's safe, following the correct laws and procedures.
CBD Before Your Flight and at the Airport 
Your bags are packed for a holiday or business trip. Everything is ready apart from your CBD oil drops or vape device with CBD e-liquid. The question remains - can you take it with you abroad? This is a tricky question because it depends on not just the place you visit but the whole trip including travelling. 
From locking up your house to getting off the plane after passing through international customs, there is a lot to think about. In most countries abroad, you can take CBD with no qualms. Because it's classed as a food supplement and not a recreational illegal drug like cannabis (although they're technically from the same plant), many nations accept CBD oil during the flight and after. If you're just starting to consider CBD oil and require more information about the drops and how to use them, you can read our comprehensive guide here.
Due to the nature of the product, the method also matters. For example, at the airport you can only take CBD orally inside the terminals. If you wish to vape it, it's wiser to go outside in a designated smoking area and vape as it's banned along with smoking and vaping any nicotine products inside a terminal. 
Therefore, it's important to keep the same patterns going day by day to get the most out of CBD, especially during a hectic trip travelling out of the UK, during your business trip or holiday and upon your return, when your mind is often elsewhere.
Can You Take CBD Oil on a Plane?
With the print out sheet of your ticket in hand and passport, you're ready to board. Suddenly it springs to mind - CBD is a liquid, can I take it on a plane? The simple answer is yes, providing the bottle is under 100ml, whether that's a CBD e-liquid for vaping or a CBD sublingual oil. You can keep any oils or CBD e-liquids in your hand luggage. However, any batteries for your vaping devices must not go on the plane and instead go in your checked luggage. If you like to vape nicotine through regular vaping, this blog explains the situation regarding nicotine vaping on a plane, which follows a similar process. 
Remember that you should not vape CBD of any kind while on the plane as it is illegal and banned by all airlines. You could face a fine if caught doing so. Whichever method you use to ingest CBD oil, it's best to buy a new bottle before your flight and keep sealed till you land to avoid any in-flight catastrophes which will ruin your belongings.
Alternative Transportation Methods for Travelling and Carrying CBD Oil Abroad
As well as the obvious route of flying via plane abroad, you can also travel by ferry/cruise ships and trains. For instance, from London you can hop on the Eurostar to Paris or a cruise liner around the Caribbean. 
Whichever method that's selected, it's still important to consider whether you can take the CBD oil or vape device aboard a boat or train. In most cases, you can with no problems because similar liquid restrictions will apply to flying on a plane. If anything, the rules are even more lenient via these alternative methods of transportation. For instance, there is no liquid or weight limit on board Eurostar trains to several prominent European destinations. That means even more CBD oil or e-liquid if you wish!
However, it's also key that you're diligent and plan wisely, so check the website of the company you're travelling with and your destination to ensure you can take CBD oil or CBD e-liquids for vaping.
Where Can I Travel and Use CBD Legally?
As we stated previously, CBD is genuinely considered ok to use and bring through international customs worldwide, as it slowly moves away from the taboo subject that it's similar to cannabis. In Europe it's considered acceptable in lots of countries providing it's below the 0.2% limit of Tetrahydrocannabinol (THC), similar to the UK. Always remain on the safe side by checking the laws of that country before you travel. In France, CBD is legal but only if there is no trace of THC. Germany needs to be below 0.2% THC. 
Meanwhile over in Spain, it's fine in products you use on your skin for example but not to consume orally. Outside of Europe, in the likes of Russia and China, CBD is a banned substance and considered a narcotic, so you will definitely not want to take this through customs. Meanwhile, over in the United States of America, the constitution has overall rules to govern the nation but each individual state has different legislations on CBD, which of course has close ties to cannabis. You're getting into a very complicated subject when flying with CBD oil, so it's imperative that you know what's accepted and rejected based on the country you wish to travel.
In contrast, you have countries like Mexico, Argentina, Canada where CBD is legal. As we know, rules can change all the time, so always check before you fly - this can not be stressed enough!
Is it OK to Take CBD Oil in Public Outside the UK?
If the country you're visiting does accept CBD products, fantastic you're halfway there to enjoying the products you always use in everyday life to support your lifestyle. However, one rule for the UK does not apply in public spaces abroad.
For the safety of others and to increase the chances of having a relaxing trip, cover your own back by assuming anywhere you can not smoke don't take CBD in vaping form. CBD drops should not affect anybody else but it again depends on the rules of that nation. Always be considerate of the country you're visiting and abide by their laws to avoid any drama. 
What about Vaping CBD Oil - Is This Allowed Abroad?
The same applies to vaping. If you see a smoking sign anywhere, assume the same applies to CBD vaping. For example, in the UK nicotine vaping in public is not a problem but it is not advised in certain public places i.e events with large crowds. For now, the same rules should apply to CBD vaping. The laws may be even stricter, especially outside of Europe, so do your research and don't take any unnecessary risks. 
Although vaping is banned while flying in the air, you can still take the device with you to most countries. It's always best to err on the side of caution and checking the governing rules regarding vaping before your flight.
Here is our list explaining some of the most visited countries around the world and their current laws (as of 2021) on vaping CBD. Before visiting anywhere abroad, check their latest laws to remain on the safe side:
Germany - Not allowed on public transport but ok in most public spaces.
Japan - Strict laws against cannabis but CBD oil is ok to purchase. If you wish to vape CBD, we suggest the safer option of buying from one of their legalised shops.
France - Vaping is even bigger in France than the UK! Banned on public transport but allowed in most public places. Look for the warning signs for smoking, which will likely apply for vaping CBD too.
India - Because of the vaping ban in 2019, expect the same for CBD vaping too. We do not advise against taking any CBD products there.
Turkey - Selling vaping products is illegal in Turkey but you can vape there legally, so it's best to take your own products.
USA - As we stated earlier, the USA is more complicated on a state by state basis. A simple search will tell you about the state you're visiting and whether CBD vaping is permitted.
In case you get in any problems outside the UK where the level of THC is questioned, it's best to use a site that sells verified CBD products that state the amount in an authorised lab analysis, as our Certificate of Analyis (COA) highlights on all our products at VSAVI.
Can You Buy CBD Abroad?
In countries such as Russia, Belarus, China and Thailand, it's illegal to buy CBD products. However, if you're visiting somewhere to enjoy CBD legally, it's better to take your own products you use if possible. This is because it's good to keep the same routine going and know what you're taking and how it impacts your body. Secondly, you know without needing to do any research that it's certified safe to take. 
However, should you decide to buy abroad, this is possible in certain countries outside the UK. Vaping is the fastest way to take CBD but again depends on the country you're visiting. Other factors you need to consider when purchasing the product is the extraction method (CO2 is the safest for clean extraction) and as mentioned earlier the THC level.
Finally, you'll need to think about bringing it back through customs. If you're coming back to the UK on the plane, the same rules will apply about the size of the liquid bottle, whether it's CBD e-liquid or CBD oil.
Purchasing CBD Before Your Travels
With so many different CBD products available online in a saturated market that's expected to reach £1 billion by 2025 in the UK, it's a challenge finding the right oil or CBD e-liquid. What you want is a tested product that meets industry standards and supplements your daily lifestyle. Before travelling, you want to ensure it's THC safe, nicely packaged, easy to use and will cause no problems going through customs. 
It's best to buy from an established brand that can offer validation through certification from a recognised governing body. It's much easier to put your mind at ease before travelling to ensure no nasty surprises. At VSAVI, all of our CBD oils have valid certificates of authenticity and have received great reviews. See for yourself, let us know how you get on and happy exploring abroad!