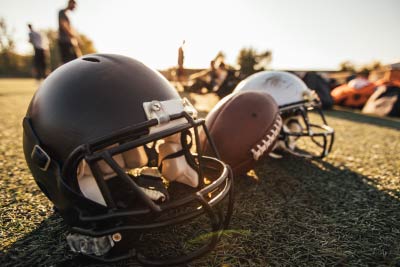 Love sports? If you're a fervent follower of all things fitness, you may have noticed that a certain American Football game took place recently? That's right – one of America's most significant sporting events, if not the biggest sporting event of the calendar year, the 53rd Super Bowl saw the New England Patriots dismantle the Los Angeles Rams in an ultimately one-sided affair to be crowned champions of the 2018 NFL season. What's this got to do with CBD? Let's find out.
The Super Show
As much as the Super Bowl is about the sport, the event also provides a significant platform for brands to reach potential customers. The large draw of the game that offers a traditional day of entertainment in the states and attracts an average of 100 million plus viewers means that advertising rates are set at a premium with businesses clamouring to bid for the lucrative advertising spots available. Whether they are TV ads between plays or in-stadium advertising noticed by attendees and viewers alike throughout the game - for marketers and makers of products, advertising at the Super Bowl is what you would call 'a big deal'.
Broadcasters Say No to Cannabis
Recreational use of the cannabis plant is now legal in 10 states in the US. While medical cannabis now caters to 33 states, so as cannabis products become the norm in over half of the states in America it comes as no great surprise that the industry would look to find a foothold in the profitable playing field of one of the nation's most celebrated sporting occasions.
One such cannabis company looking to share their products with the mass audience at this year's showpiece was Acreage Holdings. The ever-growing company currently operates across 11 states and were rebuffed in their efforts to promote their brand by Super Bowl broadcaster CBS for their advert that helped promote the medical benefits that patients potentially feel from medical cannabis.
CBD Gets the Green Light
In a historic first for the game, the cannabinoid CBD, typically derived from the hemp plant, was advertised at this year's game. While unable to obtain a TV spot, Baristas Coffee Company were able to promote their newly launched CBD-infused EnrichaRoast Coffee delivered by mobiles to the screens of attendees at the stadium. While it's not the principle position of a TV advert beamed to millions and millions of viewers, it is a significant step in the right direction for cannabis products still tainted by the prohibition and war on drugs. The recently passed 2018 Farm Bill in America, which has recognised and legalised hemp products, means that consumers will now have more access than ever to the popular cannabinoid.
Currently, no palliative or remedial benefits are recognised by the EU and the UK with regards to CBD.