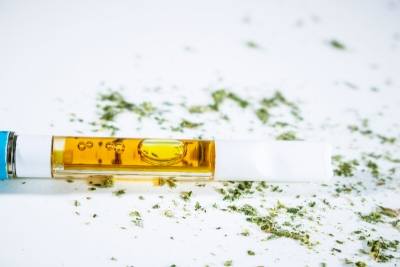 The recent surge in fake vape cartridges that have been sweeping across the United States recently has left many wondering how to spot a fake vape cartridge. Accounting for numerous deaths and over 800 hospital admissions in the USA, THC vape cartridges sold on the black market, are a serious cause for concern that can be avoided with a few simple guidelines.
Does the Seller Have a License?
All manufacturers and sellers are required by law to have a license to sell e liquid and vape cartridges. Manufacturers who intend to produce e liquid to sell in the UK and EU have to undergo rigorous testing and adhere to strict guidelines as outlined by the Tobacco Product Directive (TPD).
If a seller has affiliations and ties with officials groups such as UKVIA (UK Vaping Industry Association) or CLEAR (Cannabis Law Reform), the likelihood is that the e liquid or vape cartridge that you vape with will be a safe product to consume.
Check the Packaging
Dodgy packaging and poor branding are the first visible that will help you to work out whether the vape cartridge is fake or real. Aside from poor branding and misspelt words, a lack of some basic criteria will inform you whether you need to be wary or not. Things like manufacturing date, packaging date, use-by date, and a batch number should all be visible on the packaging of your vape cartridge.
The Certificate of Analysis 
CBD is available in several strengths, though unfortunately, not all are what say they are. A recent report by the BBC tested some CBD products to analyse the CBD content. Almost half the products tested contained more than the legal limit of 0.2% THC, while some products were found to include the solvent dichloromethane at a higher rate than food safety limits allow. Sourced from both high street and online sellers, only 38% of the CBD products tested contained the levels of CBD within 10% of the concentration of the amount advertised.
All reputable and reliable CBD manufacturers should be able to provide you with a certificate of analysis that will tell you the purity of the CBD found in your product. For instance, VSAVI's CBD is batch tested under laboratory condition and contains 99% CBD, which is naturally, one of the highest scores a CBD seller can hope to achieve with their certificate of analysis. 
Check the Ingredients
The ingredients of your vape cartridge are a hugely important aspect of whether what you vape will be safe or not. In the interests of health and safety, the old adage of less is more, rings true with the ingredients in your e juice. The majority of e liquids will feature propylene glycol (PG) and vegetable glycerin (VG). These are the liquids that are used to mix and dilute the CBD and flavourings, which essentially provide you with a smooth and consistent vaping experience. Aside from the cannabinoids, dilutants, and the odd flavouring for those not keen on the natural taste of CBD - your vape cartridge shouldn't contain any further ingredients.  
A particular ingredient that has been mentioned in the headlines alongside the recent influx of e-liquid related hospital admissions is Vitamin E acetate, which is thought to be used as a cutting agent to thicken up the e juice to resemble the thickness of cannabis-based extracts. Currently, under investigation as a cause of vaping related illnesses, watch this space.
Buy CBD Vape Oil with Confidence
The best way to stay safe out there is to avoid the black market entirely. Buying counterfeit cartridges that may appear to be more affordable than your usual e liquid might seem tempting at the time, but the reality is that this product could contain anything. It's a mad world out there and what people will do to make a quick buck only boggles the mind.
By using the guidelines above, you'll be able to tell the difference between a fake vape cartridge and a safe vape cartridge. Do some research and find honest reviews. Buying from a reputable brand like VSAVI, who use only the best ingredients, will ensure that your vaping experience is as it should be. With batch numbers, certificates of analysis and ingredients list all available upon request, buying safe CBD vape oil from VSAVI with confidence is easy.