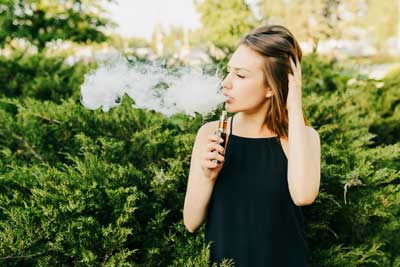 Living a plant-based life and wondering whether it's safe to vape?
Whether you're vegetarian, kosher or even halal; a natural concern when approaching any new products is whether those products align with your values and beliefs. One such worry that may cross your mind is whether the ingredients that make up the e-liquid contained within your e-cigarette are safe to vape.
Similarly to the rise in the use of e-cigarettes by former smokers, the number of those living a plant-based life in the UK has skyrocketed in recent years. In 2016 it was estimated that just 1% of the population followed meat-free lives, however recent reports and figures collated following research from comparethemarket and supported by Gresham College professor Carolyn Roberts suggests that 3.5 million Brits now identify as vegan, an increase of a staggering 700% in just two years.
Whatever the reason for your well-established or new-found lifestyle change, be it a conscious choice in an effort to ease the pain on the planet, a profound respect for animals, or simply a lifestyle choice that works for you, it seems only logical that should you happen to be a consumer of tobacco-based products, you should also be looking to ditch the cigarettes and treat your body to an altogether less-harmful and healthy existence. A healthy you sounds good, right?
Giving Up Smoking
Deemed to be 95% less harmful than tobacco, e-cigarettes have the potential to help you to quit smoking and work by way of a battery-powered atomiser that subsequently heats an e-liquid that will contain varying degrees of nicotine, (including 0% nicotine) and flavourings, depending on your e-liquid of choice. This e-liquid is then vaporised, inhaled and exhaled to simulate the act of smoking.
Manufacturers Have the Answer
In the majority, if not all cases, e-liquid is made from either Propylene Glycerol (PG) and/or Vegetable Glycerin (VG) which are then flavoured with either natural or artificial flavours. The good news for vegetarians, and as the name suggests, Vegetable Glycerin is derived from plant-based materials and oils which means that you can vape away in a veggie-friendly way. Propylene Glycerol, on the other hand, is a chemical-based, synthetic product that in most cases is indeed vegetarian-friendly, though unfortunately as with many chemicals there may have been some animal testing involved. If in doubt, it's always important to ask the manufacturer directly.
Where to Find Vegetarian E-Liquid
Flavour wise, manufacturers will use either artificial or natural flavourings and as suspected, it is the former rather than the latter that should be met with some caution. Thankfully, natural flavourings, such as those used in VSAVI's gourmet organic, 100% VG e-liquid range, will be derived from plants, fruits, and vegetables, which make them a viable choice for vegetarians to vape with.  
The Best CBD Choice for Vegetarians
Still not convinced? Having doubts about PG or VG based e-liquid? Why not try vaping our Vegetarian CBD? VSAVI's cannabidiol based vape oil is extracted from the cannabis plant and blended with olive oil making it a 100% safe choice for vegetarians to enjoy a satisfying CBD vaping experience, worry-free. Keep it clean. Keep it green. Vape CBD.