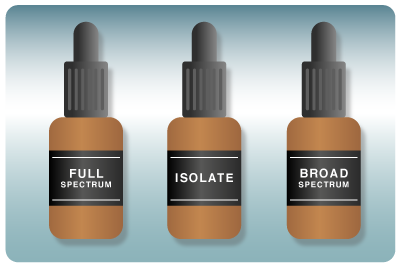 CBD oil, vape e-liquids and a variety of other Cannabidiol-related products are taking the world by storm as it continues to rise in popularity. But from time to time the terminology and lingo of the subject can be confusing as you consider the properties of each batch. Three main types of CBD need dissecting for those new to the space - Full Spectrum, CBD Isolate and Broad Spectrum. Let's look at the three types in more depth and explain what makes them different.
Full Spectrum CBD Explained
Beginning with Full Spectrum which may be the most popular, this is CBD in its purest form. It contains all the extracts from the cannabis plant you can hope for, without the psychoactive high associated with cannabis because it should be under the legal THC level with a respected CBD distributor. Any Full Spectrum CBD oil products sold in the UK that meet industry regulations typically contain terpenes, essential oils and additional cannabinoids, such as Cannabinol. For full details of a particular batch or Full Spectrum that takes your interest, look for a certificate of analysis, which explains the ingredients in full as well as the extraction method.
Those searching for the right CBD product typically want as close as possible to the natural source of the plan and for this reason opt for Full Spectrum CBD, whether that's with an oil or a Full Spectrum CBD e-liquid to vape, which is fast becoming a popular method to consume CBD. It may include things like vitamins A, C and E as well as a range of B vitamins like thiamine, niacin and riboflavin. Also found in Full Spectrum CBD will be minerals such as potassium, iron, zinc, phosphorus and calcium and essential fatty acids like Omega 3 and Omega 6. Regarding Full Spectrum CBD e-liquids, they often include VG, PG or a mixture, acting as carriers of the key extracts from the Cannabidiol chemical.
What's the Best Full Spectrum CBD Oil in the UK?
Made from natural hemp, you're spoiled for choice these days when shopping for a Full Spectrum CBD in the UK. However, you have to be careful as the CBD market is not as carefully regulated and monitored as the vaping industry for example. 
When looking for a Full Spectrum option, look at the ingredients, extraction process (if mentioned) and the strength of the bottle in contrast to the quantity in millilitres. The best advice is to start on a low dosage and work your way up to what suits you personally. Look for a transparent company that clearly labels what's in the product, although we recognise in the UK and Europe that Full Spectrum CBD does not have any medical benefits. While it's more natural than CBD Isolate based on the extraction process, the cost to process Full Spectrum is less in terms of the equipment used so the quality may not be as high as CBD Isolate.
Is Broad Spectrum Similar to Full Spectrum?
There is not much difference between Broad Spectrum and Full Spectrum. It's also extracted naturally from Natural Hemp, containing many essential oils. Most importantly, Broad Spectrum contains no THC, or at the most very tiny amounts. Therefore, there is no chance of that 'high' feeling you get from recreational marijuana. Again, check the ingredients of the Broad Spectrum selected by yourself to be sure for peace of mind. 
What is CBD Isolate?
In contrast to Full Spectrum and Broad Spectrum, you have the other end of the scale with CBD Isolate. Created by removing other natural elements from the mix, CBD isolate takes the form of a crystalline powder that can be consumed in a variety of different ways and purities. It's finely processed to the highest of standards and made from a granular composition, which allows it to be easier to measure.
The process of producing CBD isolate is pure, clean and non-toxic. It's free from solvents and yields a low environmental impact so that the CBD can be safely extracted and then used as an active ingredient.
Full Spectrum vs CBD Isolate UK - Key Differences
It simply boils down to one key difference, Full Spectrum CBD contains all the extras you expect from the Cannabidiol chemical extracted from the Cannabis plant. Terpenes and essential oils are just a few ingredients you will find, depending on the batch. Meanwhile, CBD Isolate is THC-free, often more expensive to process and purchase as a consumer.